What is 360 Degree Feedback Survey?
Empowering People Development through actionable multi-source feedback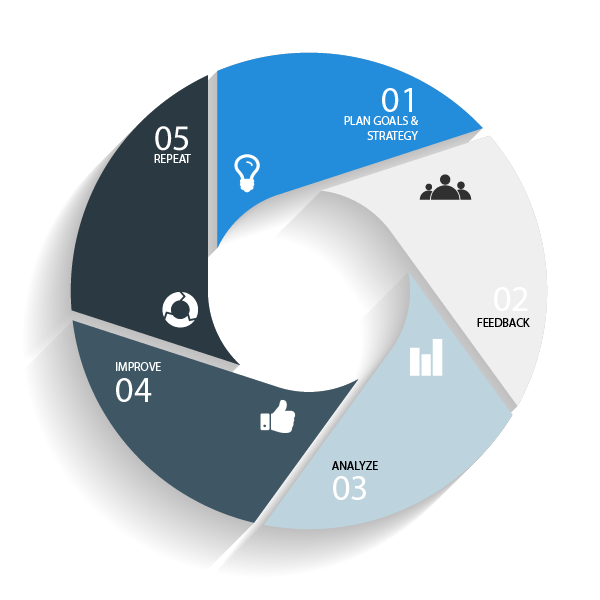 Empower people growth through 360-degree feedback surveys
360-degree feedback is a comprehensive employee review process that assesses an individual's strengths and areas for improvement based on feedback from colleagues they closely work with. This inclusive and anonymous evaluation is often considered more insightful and accurate than a traditional manager/employee review.
In addition to input from others, the process typically includes a self-evaluation component where the employee responds to the same set of questions as the feedback group. The result is a comprehensive gap analysis report, ideally accompanied by a follow-up action plan, which helps the employee maintain momentum in their development journey based on the feedback received.
360-degree feedback reports serve as benchmarks for individual growth and aid in tracking company-wide goals. The success of a 360-degree feedback implementation relies on proper execution and a well-defined follow-up strategy. By ensuring these elements are in place, organizations can maximize the benefits of the process.
Multisource feedback
Multi-rater appraisal
Multi-source assessment
360 degree review
Full circle appraisal
Comprehensive review
360-degree feedback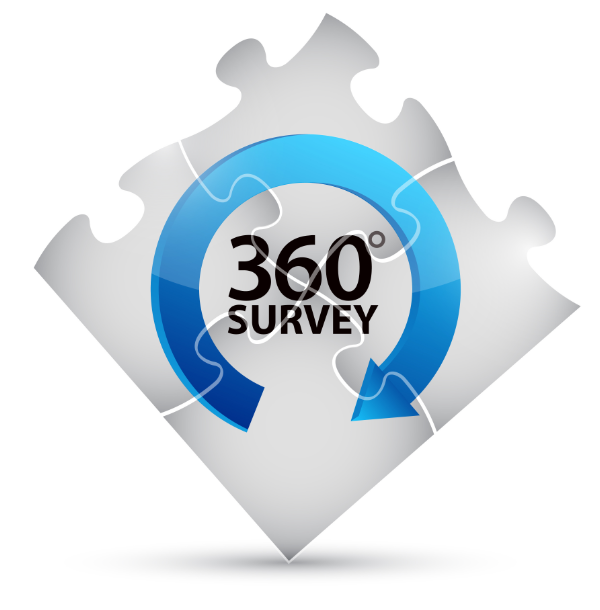 Who conducts the feedback?
In a 360-degree feedback survey, individuals who regularly interact with the employee, such as managers, peers, direct reports, or customers, are invited to participate. They receive a link to complete the survey online. Additionally, the subject of the evaluation is provided with a link for a self-evaluation, responding to the same set of questions.
By involving a broader range of stakeholders, the feedback results tend to offer a more well-rounded and balanced perspective. This inclusive approach ensures that multiple viewpoints are considered, providing a comprehensive assessment of the employee's performance and areas for improvement. The 360-degree feedback survey enables a holistic evaluation, fostering a more accurate and comprehensive understanding of the employee's strengths and developmental needs.
How does a 360 self-evaluation work?
As part of the 360-degree feedback process, the employee is given the opportunity to review themselves using the same set of questions that other stakeholders will evaluate them on. This self-evaluation plays a crucial role in identifying perceptions and potential skill gaps.
By engaging in self-reflection, employees can gain valuable insights into their own strengths and areas for improvement. The self-evaluation serves as an important baseline for learning and development, empowering individuals to take ownership of their growth journey. It provides a foundation for personal development plans and enhances the potential for self-empowerment and improvement. Embracing self-reflection contributes to a more holistic and effective approach to employee development within the 360-degree feedback process.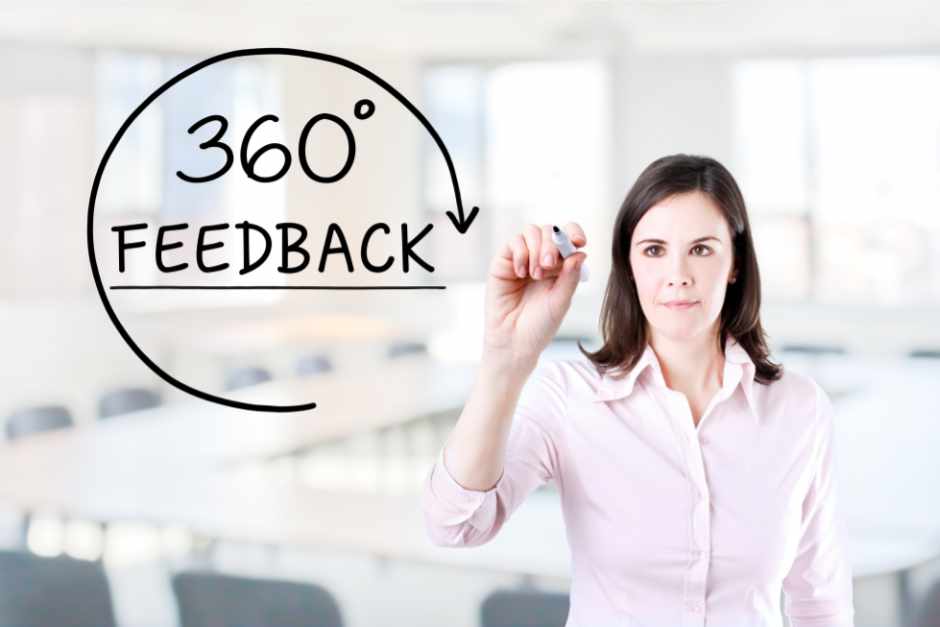 What type of questions does a 360 degree feedback survey measure?
Listening
Teamwork
Leadership
Planning
Attentiveness
Positivity
Work Ethic
Many more…
Reasons for using 360 degree feedback?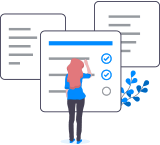 Drives stronger communication
Motivation for continuous improvement
Draws attention to hidden strengths or areas of development
Communicates a consistent company goal
Reduces training and development costs (higher rention)
Offers quantifiable metrics on performance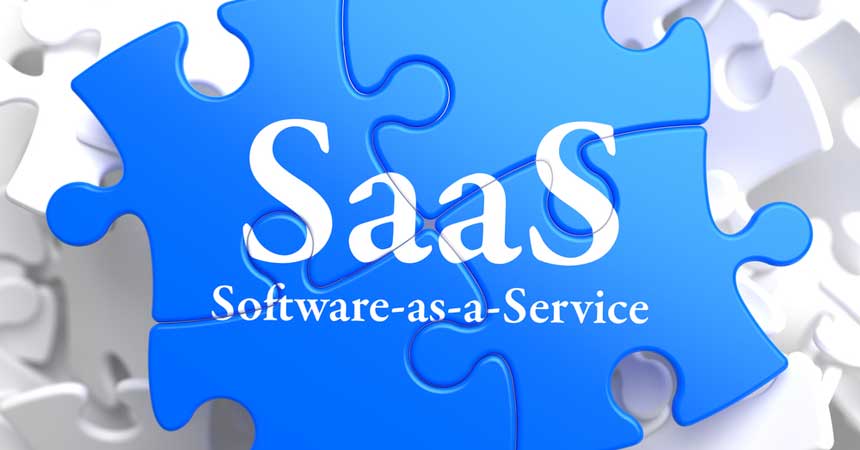 Why outsource a 360 feedback survey?
Experience the power of cloud-based feedback that provides real-time data and analytics, bringing quantifiable results just a click away. By leveraging the cloud, the feedback process becomes paperless, ensuring full anonymity and enhancing the accuracy of feedback received. The cloud-based approach offers scalability, easy setup, and seamless data transfer, enabling deployment anywhere in the world. Moreover, the feedback software automatically updates, freeing up valuable time to evaluate data and drive continuous improvement. Embrace the convenience, efficiency, and global accessibility of cloud-based 360-degree feedback to unlock the full potential of your feedback process.
What do the results of a 360 degree feedback survey look like?
Typically, the individual under review receives their 360-degree feedback report through their manager, HR department, or may have access to it via their personal account or through a third-party HR consultant. These reports are commonly presented in a PDF format. The 360-degree feedback report includes visual elements such as charts and graphs, illustrating the feedback provided by peers in comparison to the individual's self-evaluation. This visual representation enhances understanding and allows for easy interpretation of the feedback data, enabling the individual to gain valuable insights into their performance and areas for development.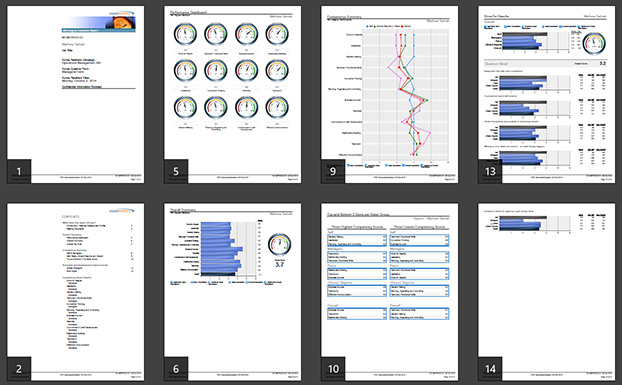 Learn more about 360 degree feedback?
Vision Metrics is a fully customizable platform ideal for managing and deployment 360 degree feedback surveys.