360 degree feedback collects comprehensive data on employee performance from a variety of stakeholders in an organization. When the set-up and follow-up is conducted properly, this data offers valuable insight into employee performance .
Since the 360 degree feedback process can be implemented in all types of industries, locations, and companies with diverging cultures, it is difficult to offer a one size fits all approach.
Generally speaking there are key common best-practices one could summarize which help give direction. Listening to your company's culture, management style and most importantly people first is key in making proper decisions and formats.
In this segment we will discuss some of the highly effective 360-degree feedback best practices we've accumulated over our more than 20 years experience.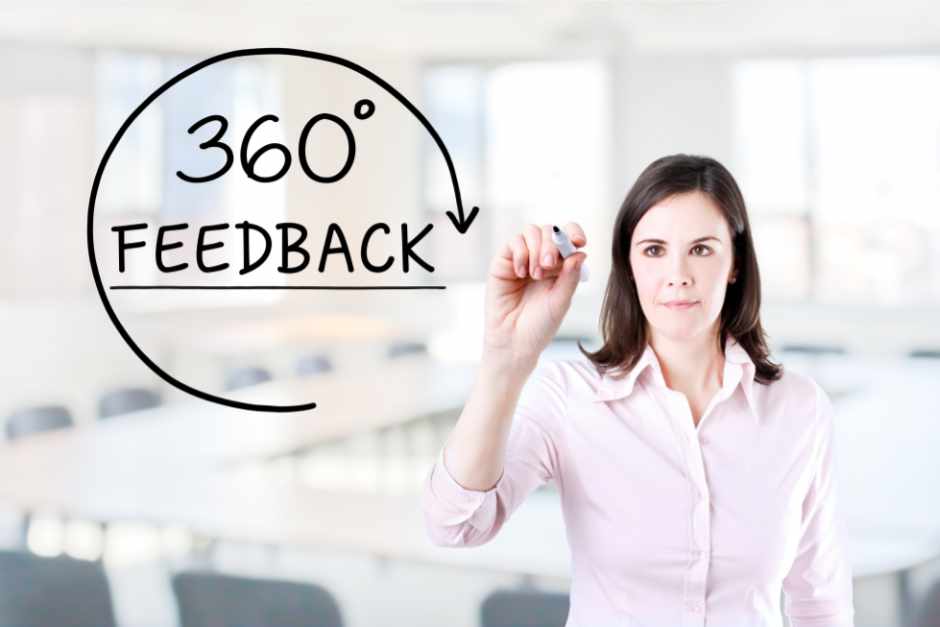 360 degree feedback systems can be time-consuming ventures for both employees and management. Therefore, planning ahead will definitely curb the amount of time being spent on repetitive things. Planning ahead  will not only save you the headache further down the line, but allow employees and teams to get so much more out it.  So what are the goals you are looking to achieve through multisource feedback? This includes the number of times the subject (person being reviewed) should be evaluated, the length of the surveys, and the type of software application used. In addition to conducting the survey, it is also crucial that time and resources are allocated for the analysis and follow-up of results.
2. Evaluate the purpose of 360-degree feedback
The purpose of a 360 degree feedback systems is to cultivate and leverage employee development, productivity, and performance. Avoid setting up feedback metrics programs to address bonus pay structures, disciplinary actions, or employee dismissal strategies. Conducting a 360 degree feedback survey for the wrong reasons will cause employees to become disenchanted with the entire process, and ultimately become wary of opening up to the organization. A 360 feedback appraisal process is about continuous development in an organization, not about quantifying a specific objective or one-time performance approval. 
Employees should believe in the feedback process. If members of management and leadership don't believe and support the feedback process, this will have a detrimental effect on the overall efficacy of the learning environment.  This is where communication from leadership plays an important role in setting up the right working environment to grow. Leadership should communicate the advantages so that employees gain trust and are able to realize their efforts are helpful to the overall process and their personal development. 
Find a good person within a team or management to exchange ideas about how the performance evaluations will impact the team and personal development goals. 
4. Encourage goal oriented questions
Determine the right tone and formulation in the questions you pose to employees so they can leverage their strengths. Ask yourself, how do the questions you pose best translate to actionable goal oriented insights? 
5. Establish credibility with team members
Communication is an important first step before deploying any feedback system. Whenever possible verbally or via email, state your objectives to the people being evaluated before a launch.  Communicate who will be facilitating the survey, who will have reading rights and address any anonymity concerns employees may have. 
Using a third party service like Vision Metrics instils trust with respondents and subjects. By communicating the objectives and goals of a 360 degree feedback survey and who will have access to data will render greater participation within teams.  For employees to fully embrace the 360 degree feedback process, they must be able to confide in the overall process. 
An effective 360 degree feedback survey will ideally be conducted annually or bi-annually as it will help to benchmark any progress. Using the same competency frameworks throughout process ensures results remain comparable.
8. Positive question formulation
Formulate your question in a positive manner by avoiding negative constructs. The administrator of the 360 degree feedback program is responsible for setting the tone of the survey. Positivity gives the employees the mindset that change is encouraged by management.
Keep the 360 degree review forms simple and short. It's important that the surveys are not overloaded with too many questions as it will likely lessen attention spans and dilute results.
We recommend no more than 35 questions and no more than 5 questions in metric category.
Make sure every question is relevant and asked in the clearest most concise manner.
Avoid asking more than one question within a question. 
10. Invest in follow-up goals & discussions whenever applicable
A 360-degree feedback survey is designed to collect data from various stakeholders in your organization.  The data is only helpful if strategically acted upon. The reviews can provide a foundation to leverage personal development strengths and address challenge areas. To ensure sustained development, follow-up with goal oriented actions that go beyond the data.  
Learn more with Vision Metrics 360
try our time tested and loved 360 degree feedback platform today!